[ad_1]

Last Tuesday, Aug. 9, members of the Corvallis community were invited to paint temporary murals and graffiti on the walls of the Oregon State University Pride Center building, located at 1553 SW A Ave., before the space closes to undergo major renovations. The event was organized by Center Director Cindy Konrad (who also brought art supplies for those who participated) to honor its past, mark its transition, and "dream about the future". 
For those who have built and shared community within the pre-renovated building – be they employees of the Pride Center or SOL (a student-led multicultural support network that focuses on queer and trans people of color), OSU students, non-students, activists, organizers, or others – the event was an opportunity to commemorate this care work and process the changes to come. 
"Pride and SOL staff work hard to create spaces where queer folks in the community can find relief from the systemic violence that targets us by providing a rare space in which we can consistently be our authentic selves," said Tali Ilkovitch, an OSU student and community member. "These oppressive systems often subject us to ostracization and displacement from our own homes, loved ones, and greater communities, so it has been admittedly extremely difficult to have to relocate ourselves and rebuild that sense of stability in a place, even though the renovation is ultimately going to improve our resources with which to be in community together." 
One SOL employee, who requested to remain anonymous, said that, as a center, staff have done a lot of unlearning with people – including how they can express themselves and the wants and needs of their communities at OSU. 
"There are a lot of limitations within living and existing in a college setting, especially regarding radical expression," said the employee. "We all have messages, things we want to scream at the establishment, but need a vessel to do so."  
Transcribed on walls, mirrors, sinks and floors, these messages included tatements like, "Save Trans Kids"; "QTIBIPOC Belong Here Too"; "You're Worth More Than Capital"; "Abolish Gendered Restrooms"; "Be Queer, Make Love, Resist"; and more.  
"Seeing what is written, it is clear we have aspirations; people should not ask why we scream, but why and for how long it has been silent before," said the employee. "We were able to channel this into a medium of art that people tend to associate with poverty and crime, instead of with how art holds infinitely more value than property." 
"Creating these murals felt like a powerful way to envision and manifest a world beyond the inherent genocidal violence of the status quo, beyond hundreds of new laws per year threatening the existence of queer and trans people, beyond police and prisons, beyond white supremacy and colonialism, beyond the impoverishment and abuse inherent to capitalism and hierarchy," said Ilkovitch. "A world where every human being's existence and identities are celebrated and their basic human rights and needs are recognized and accounted for, regardless of who they are and how much money they have. First we dream, then we create resistance." 
More information about the Pride Center Renovation Project can be found here. 
Music Shows and Mutual Aid: Since its founding in February of this year, members of Polypore, a Corvallis-based emo/art-punk band, have been using their unique role in the local DIY scene to commit to activism, community building, and mutual aid.  
They've played at benefits shows across the Willamette Valley to raise funds for local mutual aid groups like the Corvallis Really Really Free Market; neighboring causes like Lebanon Pride, which was organized by Corvallis' Bitter Half Booking to show solidarity with Lebanon's LGBTQ+ community after Mayor Paul Aziz refused to sign a Pride Month proclamation for the city in May; and more faraway causes like The AFIYA Center in Dallas, Texas, a Reproductive Justice organization founded by and for Black women and femmes. 
When they're not performing or practicing, the band creates and shares helpful resources with the community, the most recent being a Google Doc featuring a comprehensive list of organizations, shelters, and services available in Corvallis for folks who are struggling to meet their basic needs, and which the band encourages people to print out and distribute to folks who might not have Internet access. Last month, they launched the Mid-Willamette Scene Seams project to help local artists, musicians and organizers build connections, and in April they released an introductory zine about the movements, tips, and importance behind organizing safe, accessible, and actively inclusive shows in the DIY scene – values that remain at the core of their practice.  
"What basically fueled me is that, at the very beginning with all the original founding members of this band, I kept saying that I didn't want to play at shows that I wouldn't feel safe or excited to go to," said Marin Monteith (a.k.a. "Monty"), Polypore's front vocalist. "I've been in the DIY scene since I was about 12 years old, and it was lifesaving for me. And so I feel like we came onto the Corvallis scene and believed that all our shows are supposed to be for all ages, they should be substance free, and we didn't want to play in anyone's basement because not everyone can get down into basements." 
While they acknowledged that 21+ shows and venues that involve substance use do have their place and shouldn't be negated, Monty noted that many people are unable to go to these kinds of shows, whether due to age, physical disabilities, struggles with sobriety, higher risk of sensory overload, etc. They suggested that show organizers looking to create spaces that do accommodate these things can do so through varying levels of community outreach, such as advertising on show posters and social media that any disability can be accommodated by request, what harm reduction resources will be available at a show, and more. 
"It's so important to be extremely intentional about making spaces for minors, and for people like us – shows that we would want to go to as folks who share the identities that marginalized folks hold," Monteith  said. 
Another band member, who requested to remain anonymous, said, "There's so much energy that marginalized folks like people of color, queer and trans people, and disabled folks have to put into literally just fighting for our ability to exist and to feel safe, and into having to navigate so many spaces in which we don't feel safe and are struggling to survive in. I think having even just that one space where you feel safe and affirmed and reflected and represented has been lifesaving for me in that it enables me to continue to do all of the other things in my life that I want to do, but that can be really taxing and emotionally draining. It fills my cup back up." 
Monteith added, "A lot of people don't think that resource sharing and community building and mutual aid doesn't really have anything to do with music, but I disagree; it's about the ability to reach people through your music and also by bringing them into this community where you're sharing space and energy and vulnerability with each other. People should always know that they can reach out to us, that they're going to be safe at our shows, that they can come up to us and tap us on the shoulder and we can help them get what they need." 
New Donations Sought for Corvallis Really Really Free Store: Operating in limited physical space with an eye towards helping to meet continuously evolving community needs, organizers with the Corvallis RRFM's Free Store, located in room M252 of the Benton Hall Plaza on 408 SW Monroe Ave, are accepting specific resources at this time.  
Currently, items that organizers are looking for include food, kitchenware, ready-to-eat snacks, batteries, camping gear, XL clothing, and hygiene products. They can be dropped off at the Free Store on Tuesdays, Thursdays, and Fridays between 11:00 a.m. and 6:00 p.m., or at the outdoor market, which takes place at Central Park every Friday between noon and 4:00 p.m. Sticking around and setting up your own space of donations at the outdoor market is encouraged and will be accommodated.  
As always, there are a myriad ways you can help support the RRFM. The group always needs more hands and people to help with organizing the Free Store, outdoor market, and other community outreach efforts – such as transporting and distributing hot weather resources to unhoused neighbors during periods of extreme heat. For financial support, you can join their Patreon or donate to their Venmo.  
Updates on Housing and Climate Justice: On Aug. 1, members of the climate action hub Sunrise Corvallis presented the Corvallis Green New Deal for Climate and Housing Justice (CGND) to the Corvallis City Council. In their testimonies, Sunrise members conveyed the intersectionality of issues related to climate crises and houselessness, and urged councilors to pass the resolution so that they can be addressed together – and with urgency – by ending camp sweeps, decriminalizing poverty and houselessness, and taking a rapid and just transition away from fossil fuels. 
"[The CGND] lays out the fact that we are all being hurt by the climate crisis, but our houseless neighbors are the ones who are disproportionately suffering from these impacts," said Sunrise member Salah Miller during the meeting. "Just think of the 100-degree week we just had. Everyone was impacted, but those without shelter were the ones who were most impacted by this. These issues of housing justice and climate justice are connected, and deserve to be addressed through rapid and actionable steps as stated in the Corvallis Green New Deal." 
A few unhoused community members were originally scheduled to share their own testimonies on the matter, but were unable to attend – an incident which, Miller pointed out to councilors, showed how city processes are often inaccessible to folks experiencing houselessness. One unhoused individual, Jason Fields, who was also unable to make the meeting, requested Sunrise member Lars Romsos to speak on his behalf against the "cruelty and pointlessness of the practice of sweeps". 
"[Jason] wanted me to convey his opinion – which I agree with – that from his experience, sweeps do not solve the housing crisis, and all in all make it much worse," said Romsos. "As an example, from my experience through Stop the Sweeps Corvallis, the [Corvallis] Really Really Free Market, and Sunrise Corvallis, I assisted other community members in handing out water and coolers this week, which was made much more difficult by sweeps of the skate park, which… [forced] people like my friend Jason to move for no other reason than that this policy is in place." 
"I think Sunrise members did a really great job demanding the city take an intersectional approach, and stop settling for solutions that don't act with urgency," said Miller. "For example, the HOPE Advisory Board has projects like the motel renovation that won't be complete for years, when managed camping as demanded in the CGND could support people right now. [There's also] the fact that the Corvallis Community Greenhouse gas report doesn't show any rapid decline in fossil fuel reliance, when our summers are only getting hotter and wildfire season sticks around longer." 
Councilors decided to put the CGND on the agenda for the Sept. 19 meeting, where they will be voting on whether to pass it.  
By Emilie Ratcliff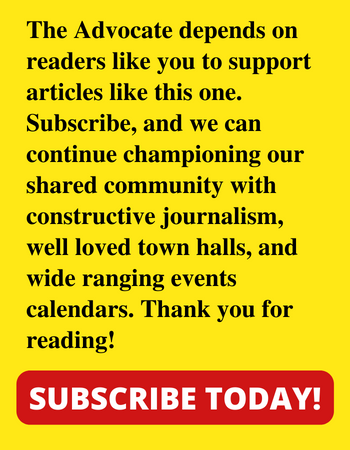 [ad_2]

Source link