"If a year was tucked inside of a clock, then autumn would be the magic hour." – Victoria Erickson
Ah, fall. The crisp, fresh air. The start of the school year. The feeling of "new beginnings" seems everpresent as the air cools down in the evenings and the leaves put on a dazzling transformation outside of our homes. Of all of the seasons to celebrate, there is a little something extra magical about autumn. What better way to welcome the bridge between long, hot summer days and long, frigid winter nights than a front porch facelift?
We love fall decor because there is so much variety depending on your style and what kind of a statement you want your house to make. Regardless of your budget, we're offering up our favorite fall wreaths that are bound to bring a smile to your face every day you step onto your porch this fall.
20 Favorite Fall Wreaths
1. Pre-Lit Faux Harvest Pumpkin Wreath & Garland
We love this modern twist on a fall classic featuring bright white mini pumpkins. The modern dark and light contrast makes this wreath pop on front doors and show fall festivity. It's also pre-lit, making for a beautiful sight as days get shorter.
2. Green Olive Wreath
Who says greenery goes away with fall? If classic autumn colors aren't really your thing, this timeless green olive wreath is impressive, natural-looking, and welcoming. Perfect for rustic, farmhouse styles, olive leaves are a symbol of warmth, friendship, and peace for the season.
3. Faux Pomegranate and Pinecone Wreath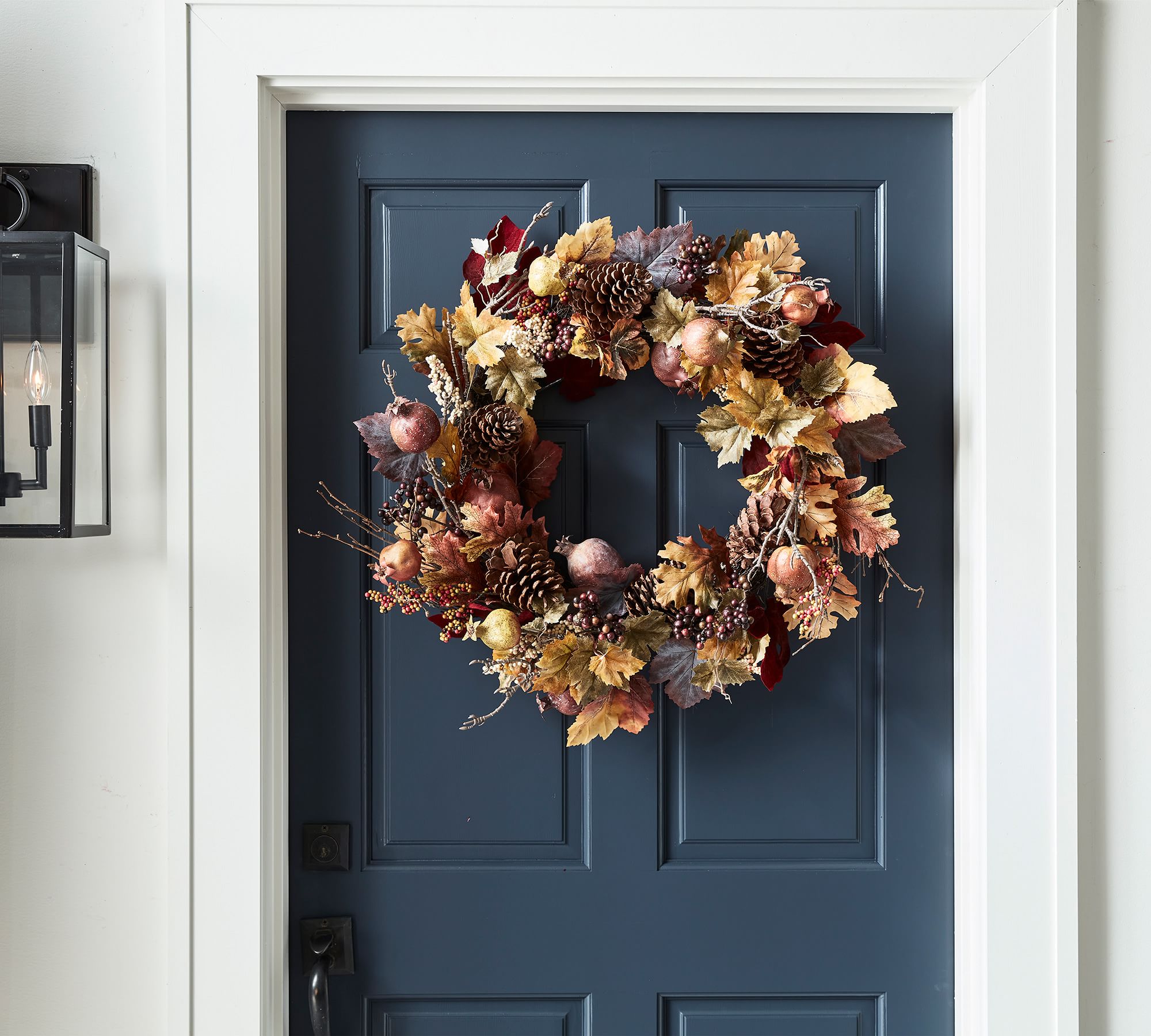 Bring the look of real outdoor autumn fruit, leaves, and seeds to life with this wreath. It's made of natural pine cones and backed with a loop for hanging. Simple, elegant, and bright.
4. Pink Pumpkin Fall Wreath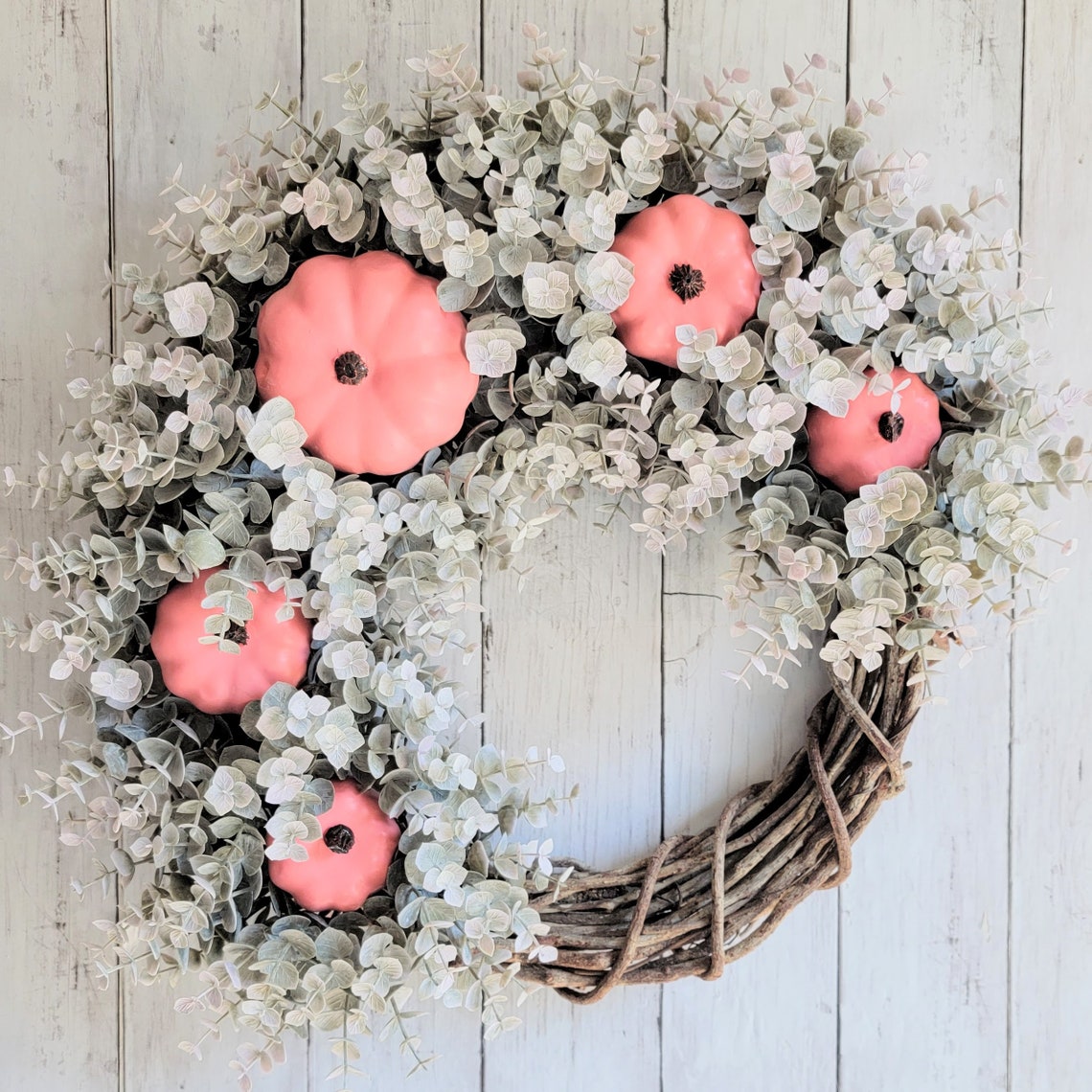 We are loving this unique and fresh take on a fall classic. Hand-painted coral-pinkish pumpkins are sure to draw attention and add style to any front porch. The gray eucalyptus greenery sits on a natural rustic grapevine wreath which adds a unique contrast to the pumpkins and would brighten any entryway.
5. Sunflower Wreath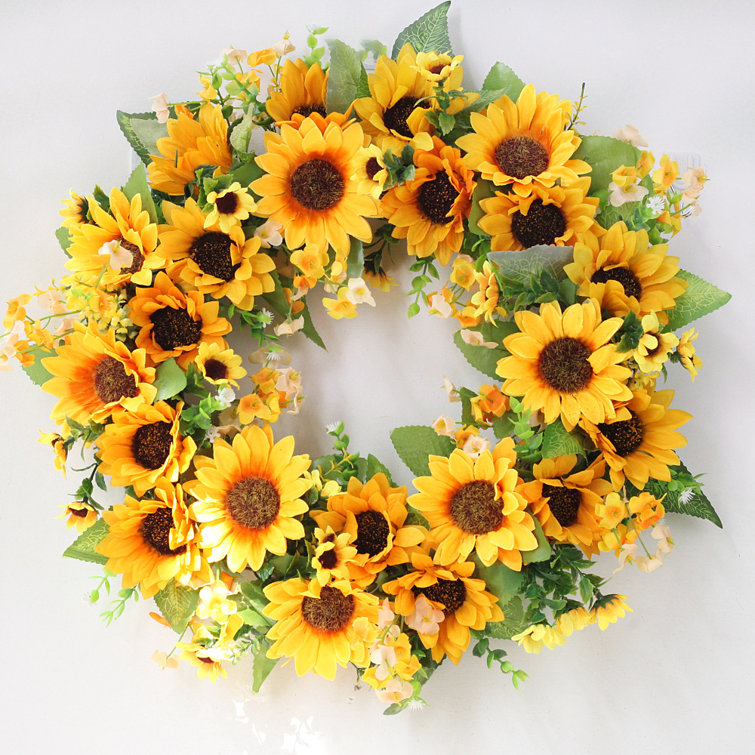 Sunflowers are a beautiful addition to any floral arrangement. What better way to add a bright pop of autumn yellow to your door and create a vibrant atmosphere? Often recognized as the symbol of joy and hope, sunflower wreaths are a great transition from summer into fall, making them versatile throughout the seasons.
6. Mixed Apple Leaf Wreath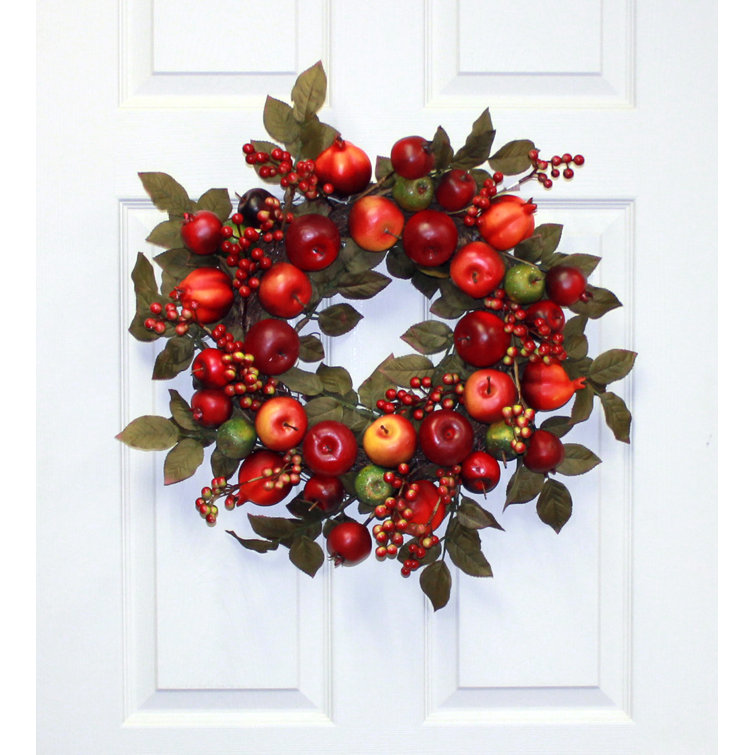 When you think fall, you think apple picking, right? Bring apple-picking vibes to your doorstep without even stepping foot on the farm. The only thing that could make this wreath more cheerful is if it came with an apple-scented candle or a slice of pie.
7. Sunflower and Hydrangea Wreath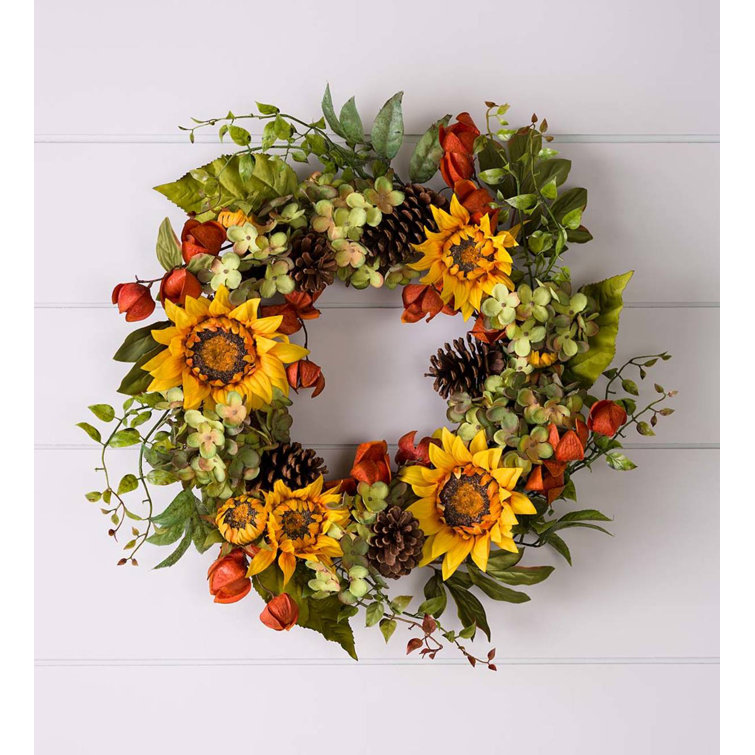 Okay, so maybe sunflowers are your thing, but you are looking for more greenery too. This wreath adds vivid color and rustic charm to any porch. The addition of hydrangeas adds elegance and class to this timeless wreath, pretty enough to pick.
8. Accent Autumn Leaf Wreath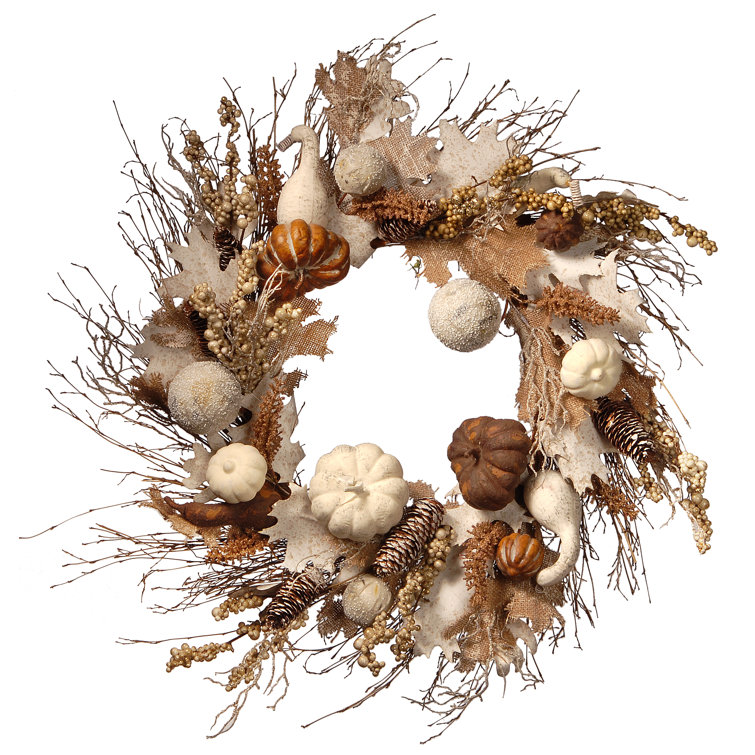 Keeping things neutral can add sophistication to any outdoor space. This wreath features assorted leaves in subdued white hues flowing from a woven branch base with individual twigs spread out from the center. Festive gourds, pine cones, and berry clusters complete the look and add warmth and depth to this stunning decoration.
9. Fall Safflower Wreath
We are loving this fall wreath made up of freshly cut plants and flowers. This one is comprised of safflower, sage, bay leaves, and marjoram plus broom corn, yarrow, and wheat. Made in the USA, it can be customized and is the perfect addition to the home of passionate chefs or kitchen enthusiasts.
10. Modern Wheat Fall Hoop Wreath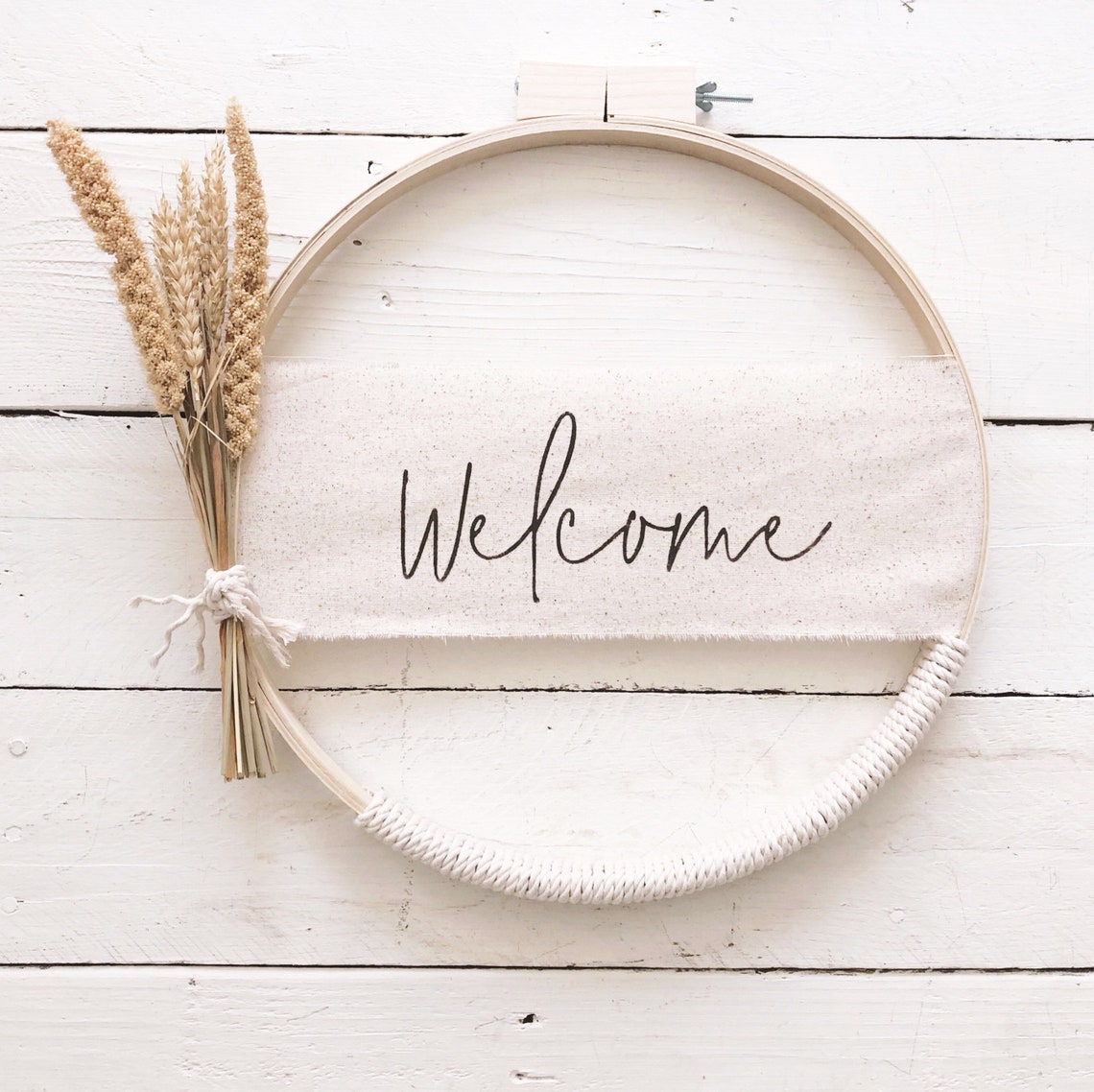 This hoop wreath has a gathering of various wheat stems. It is perfect to style for a modern, minimalist, or rustic farmhouse vibe, depending on how you customize it. Customize your favorite hoop color, phrase, font style, and fabric detail to personalize this piece for your home and add your own touch.
11. Lambs Ear Eucalyptus Greenery Wreath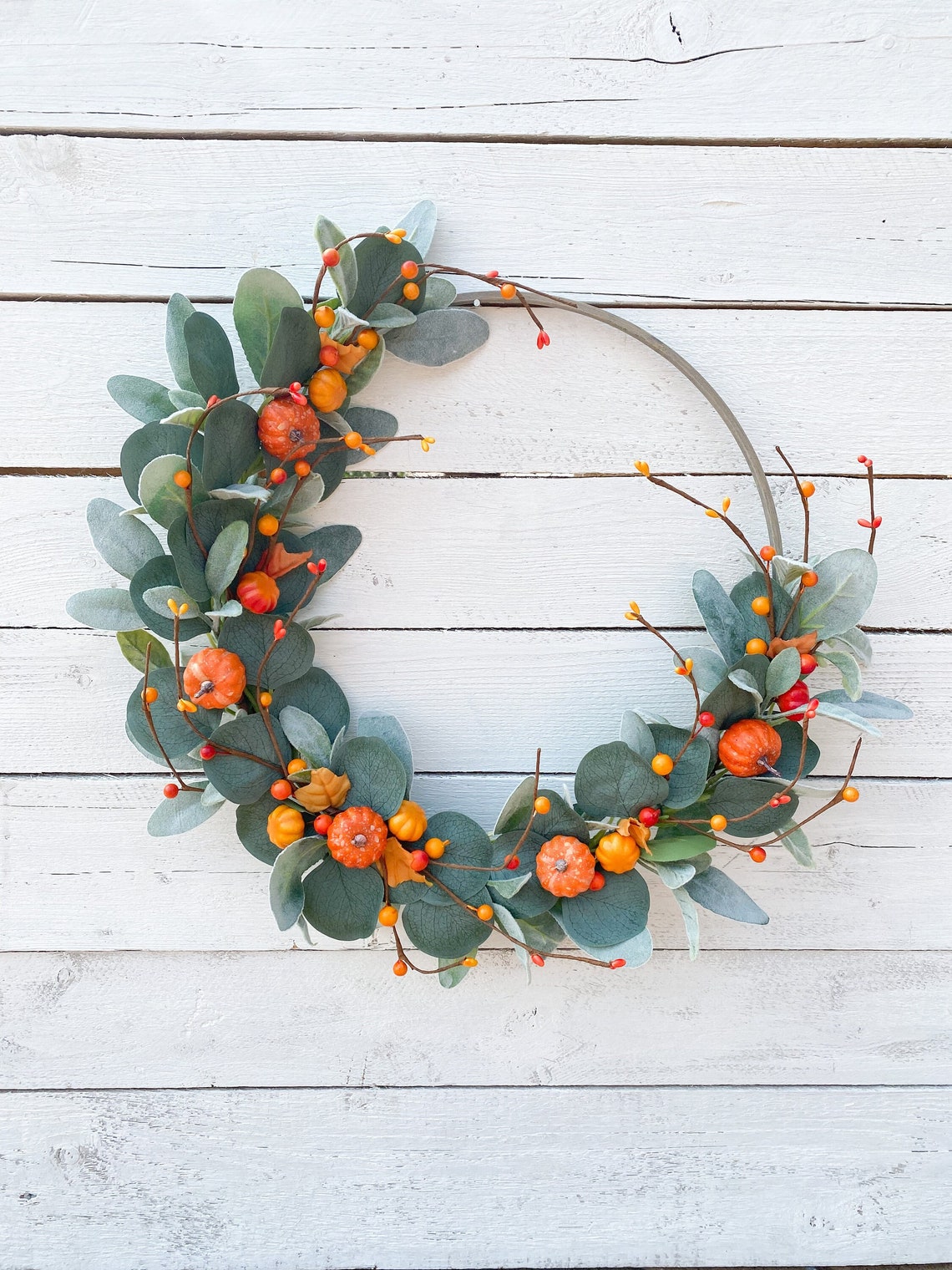 Hello, farmhouse vibes! Give your home that fall feel with this pumpkin and autumn berry on lambs ear and eucalyptus wreath. You can customize this unique wreath by choosing a grey or dark walnut hoop stain color. Reviewers rave about the design and fast shipping, too.
12. Autumn Berry Lambs Ear Hoop Wreath
Here's another hoop style, but with classic fall foliage colors. This fall wreath is a more modern take on autumn. We are loving the ability to customize this piece to the needs of your space, with diameters available in 10, 12, 14, or 18-inch hoops to fit any door or entryway.
13. Pumpkin Wreath with Glitter
For the Halloween enthusiasts out there, fall means spooky season. This fall wreath is embellished with orange wood pumpkins, silk leaves, and other glittering decorations, bringing a Halloween atmosphere to your home. It's perfect to greet guests or trick-or-treaters and makes your door stand out in the street!
14. Pre-Lit Black Glitter Branch Wreath with Bats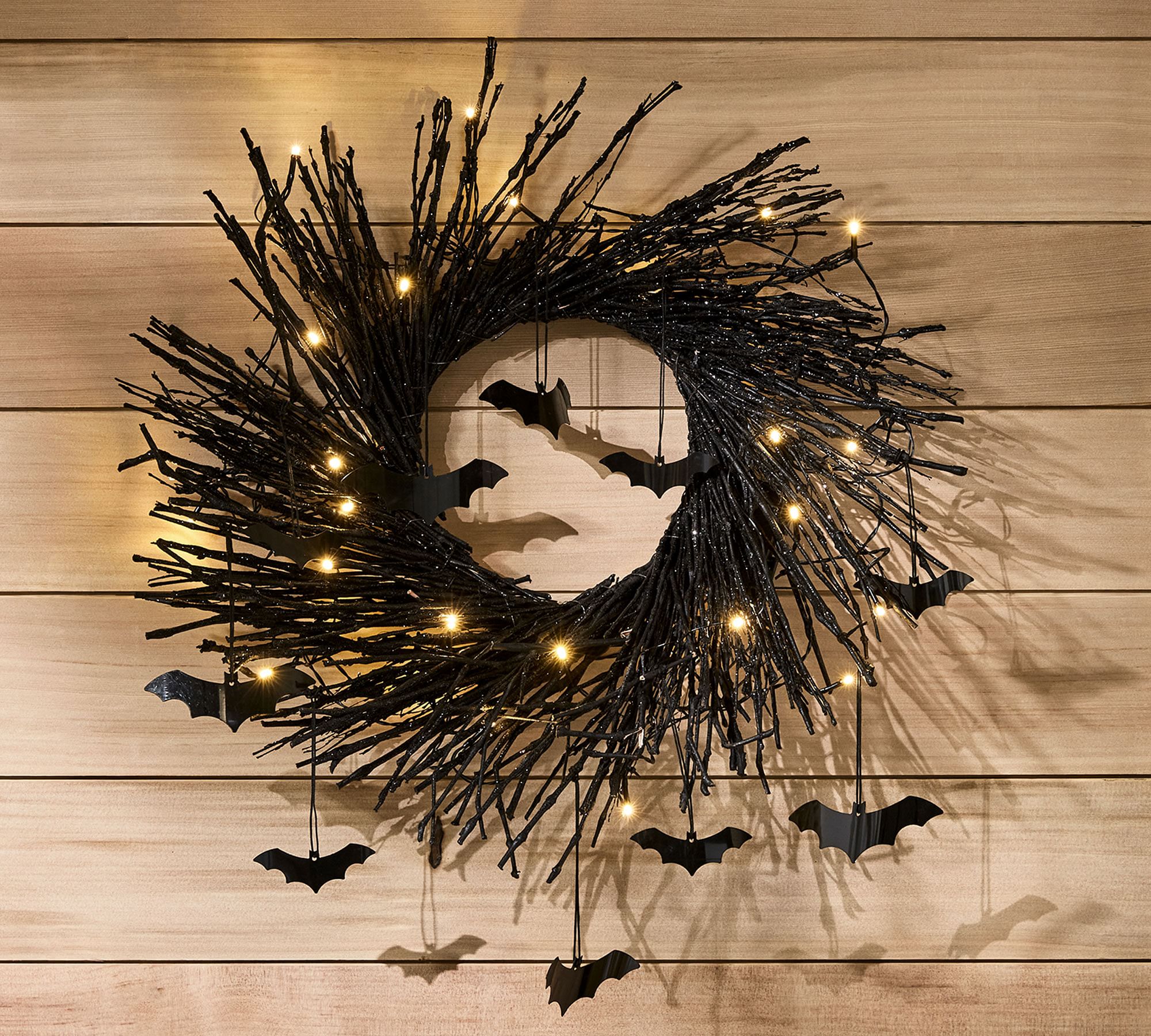 Here's one more for those with Halloween in their hearts. This fall wreath is a dark twist on a classic but perfect to light up the night sky with pre-lit twinkling accent lights. Flying bats set a perfectly eerie tone for Halloween festivities.
15. Autumn Modern Minimalist Wreath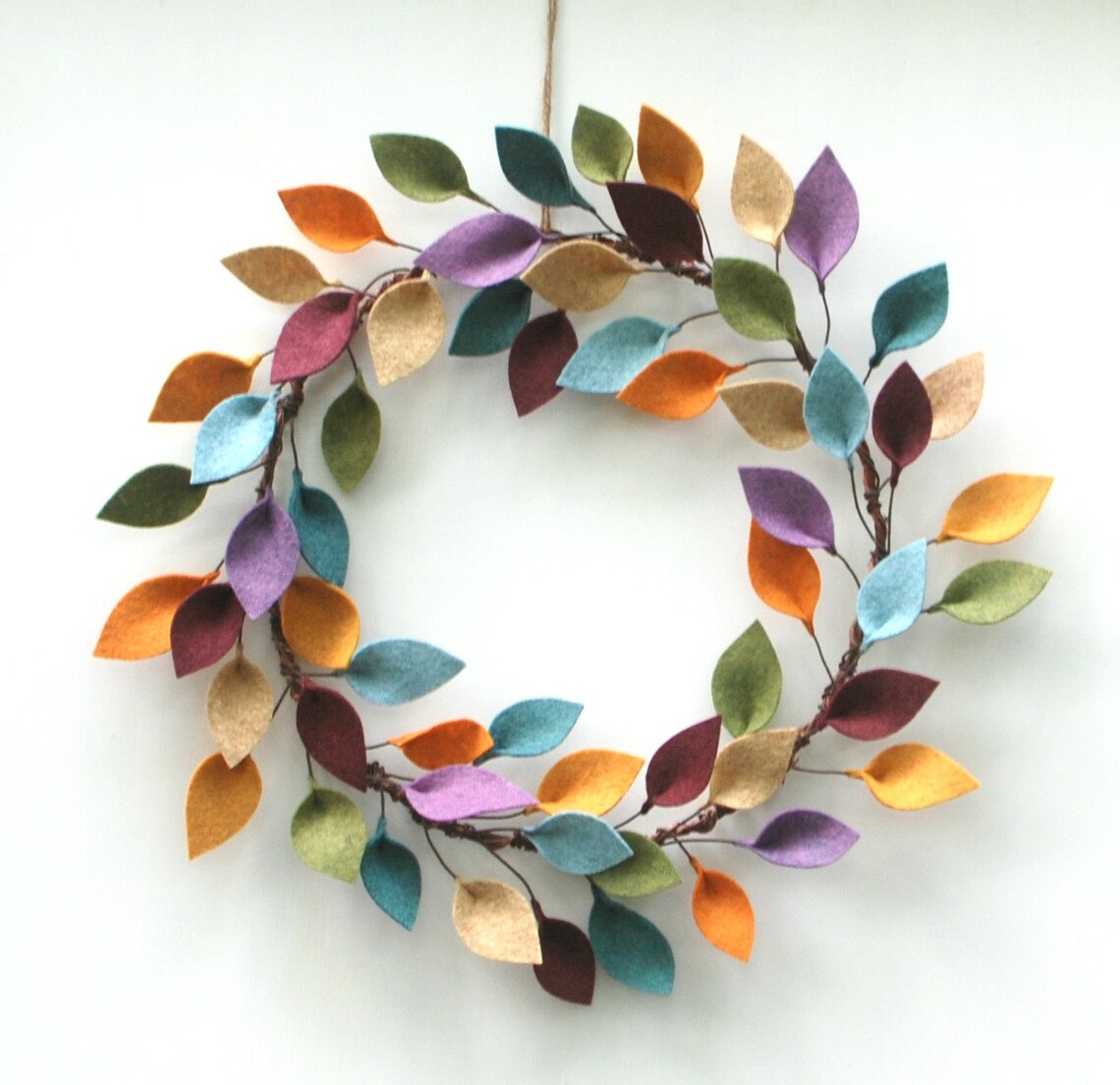 What a beauty this wool-blend felt leaf fall wreath is! It comes in various shades, individually attached to brown floral wire. Unlike some more bulky alternatives, we love that this wreath is very lightweight and has a more shallow profile to fit into any space — including between a front door and a storm door.
16. Magnolia Wheat Wreath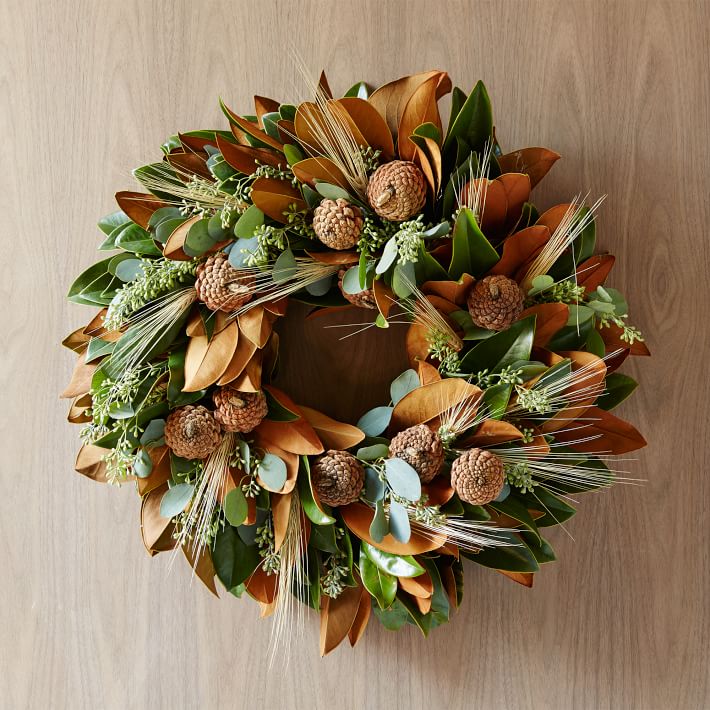 Made up of freshly-cut seasonal plants, the Magnolia Wheat Wreath is artfully arranged to order. Magnolia leaves, pine cones, and wheat give this arrangement a timeless range of autumnal hues. Another perk? Fresh eucalyptus gives off a bright, energizing scent to greet your guests and set the tone for a warm visit.
17. Dried Mixed Marigold Wreath
This dried mixed marigold fall wreath is made on Creekside Farms by hand and features an assortment of orange and yellow herbs and flowers, including yarrow, white statice, and of course, marigolds. What a delicate yet unique piece of decor for any porch. Creekside Farms specializes in artisan wreaths and garlands — but these aren't your average berry-studded holly pieces. Drawing inspiration from surrounding flora and using natural products, you can even snag a seasonal wreath subscription so that you'll always be prepared to change out wreaths!
18. Dried Herb Wreath in Blue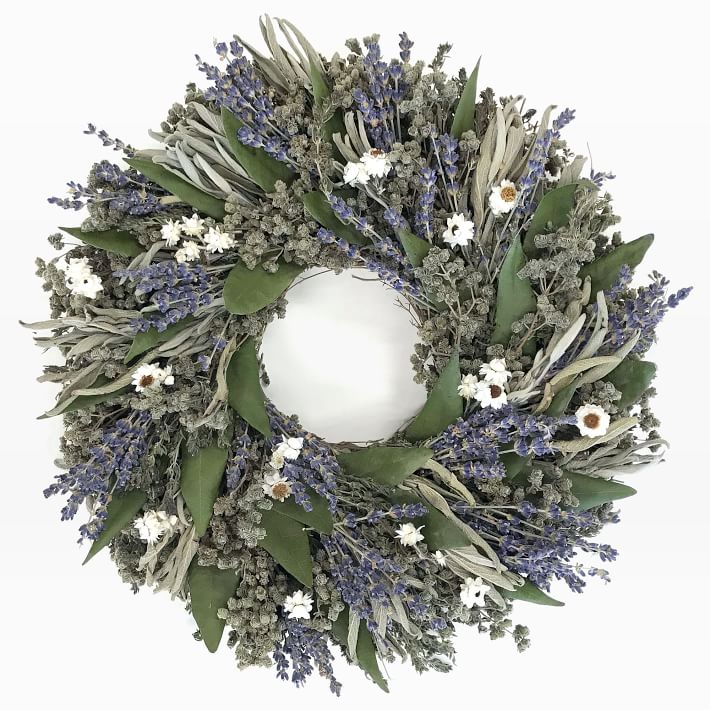 Bring natural beauty to your door with this mixture of seasonal flowers and herbs. Made up of freshly-cut plants and flowers, this wreath is arranged to order and adds a pop of blue, which is often not featured in fall decor. We think it's the perfect accent for a more subtle style and can also work as you transition from summertime, too!
19. Golden Yellow Wheat Wreath
This tail wreath is simple, elegant, and so very autumn. Bring the farm to your front door with this golden fall wreath featuring wheat leaves and tails. This could be an excellent, warm addition to rustic country styles or farmhouse-style homes.
20. Greenery Wreath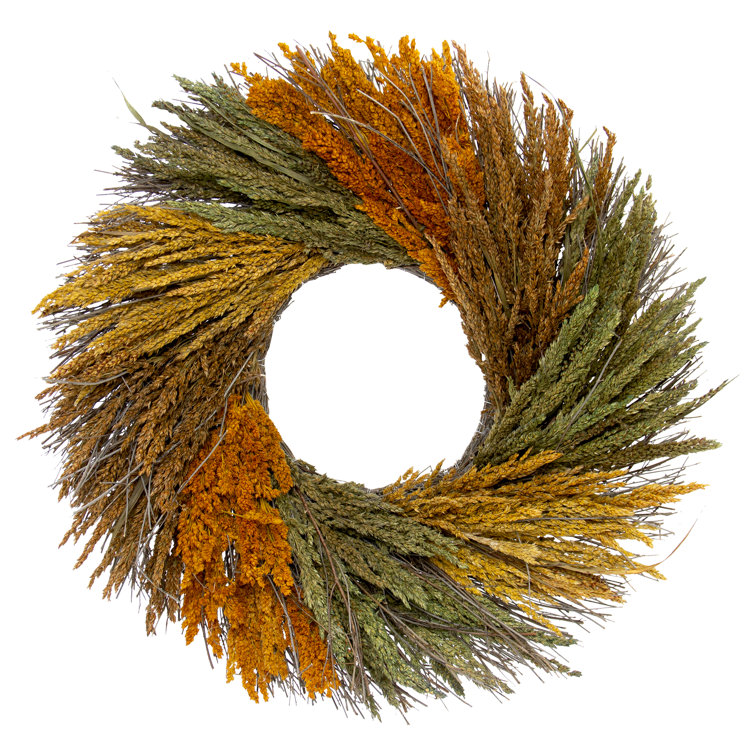 Is color-blocking kind of your thing? If you're a fan of bold colors and could do without florals or the traditional leafy look, check this fall wreath out. Hand harvest Sudan grass in a color block pattern of autumn tones creates this simply stunning natural wreath. It's bold and unique and can be used each season to add charm and sophistication to your space.
Well, there you have it! We hope this roundup of our favorite front door fall wreaths inspires you to decorate your home and add your personal touch. It's not fall time without one, so make sure you grab the one that caught your eye to add that festive charm to your home, sweet home.
This article contains affiliate links. These opinions are our own. However, if you buy something, we may earn a small commission, which helps us keep our content free to our readers. To see more of our recommended products, check out our Chick Picks Shop here. It's our carefully curated shop of products we love and recommend!