[ad_1]

As of Friday, Aug. 5, there are no candidates for the Ward 9 City Council seat.   
Ward 9 lies between NW Highland Dr. and the eastern border of Corvallis, and between the northern border of town next to Owens Farm and the Jackson-Frazier Wetlands and a jagged path from the corner of Highland and NW Circle Blvd., north along NW 9th St to NE Walnut Blvd, and followed Walnut to the eastern edge of Corvallis.  
The City Recorder's office wants to encourage anyone living in this area to consider running for City Council. It's an important way to make a difference in our community, and doesn't take a great deal of time. 
For more information about running for a City Council seat, check in with the City Recorder's office.  
Local Startup Sold: Local company Gadusol, which created synthetic biological technology to replicate the natural sun protective compounds found in marine animals, was sold to Arcaea.  
Arcaea is known for making the effort to move away from petrochemical, animal, and plant compounds in makeup products. Their goal in obtaining Gadusol is to continue to find more sustainable means of production within the beauty industry.  
Rent Prices Still Going Up: The current rental market for housing has less than 1% availability at the moment, and due to rent control, the rents are continuing to rise. The current average rent in Corvallis is $1,674 for an 866-square-foot space.  
In the commercial rental market, we look at 16 rental properties. The average rental price ranged from $24.00 per square foot to $1.16 per square foot for an average cost of $8.05 per square foot. There is no clearinghouse for commercial real estate, so we cannot be sure what the rent differential is from last year. 
Hewlett-Packard Furloughs Contract Employees: A large number of workers at HP's Corvallis campus were furloughed for much of the month of July, but the reason remains unclear. A source says the workers were contract employees rather than full-time employees. 
The company is greatly reduced from when it was known as Hewlett-Packard and employed thousands of people at multiple sites, including Corvallis. A part of the Corvallis campus has been reopened lately – staffed mainly by people employed indirectly through staffing agencies – to manufacture printers. Sales of printers increased during the pandemic, as large numbers of people began working from home. Sales recently dropped abruptly, though, and there has been speculation that this was the cause of the furloughs. 
CIBC Assembling Committee: Since the Downtown Corvallis Association (DCA) has dissolved, many have been waiting for the Chamber of Commerce's new Corvallis Independent Business Committee (CIBC). Finally, we can say that first steps are being made toward making the CIBC happen. 
A committee which currently has seven members – will be looking for nine to 13 members to officially start – has been looking for people. Members can come from all places downtown – city employees, building owners, business owners, etc., and the Chamber is hoping to attract the new business owners alongside those who have been part of the community for decades.  
This new committee will begin with a blank slate, so they can decide what they need to focus on. At monthly meetings with the Chamber, the committee will offer advice for where they think resources should be placed.  
If you're interested in joining this committee, please contact the Corvallis Chamber of Commerce at 541-757-1505.  
Benton County Continues Economic Climb: Currently, the Benton County unemployment rate is at 2.4% while the state of Oregon sits at 3.6%. Economic recovery from the pandemic has continued to outpace the recovery from the recession of 2007-2009.  
In the Northwest Oregon Counties area – including Clatsop, Columbia, Lincoln, and Tillamook counties – Benton County continues to have the lowest unemployment rate and the highest hiring rate over the last three years.  
Why Do We Want Food Carts: Speaking to business insiders about what people want to add to town, many voices are calling for more food carts.  
No one really knows why new food carts aren't being established in town – whether it's licensing, space, or an unwillingness of city officials to hear what locals are saying. And what are locals saying about why we need food carts? 
Simon Date of the Corvallis Chamber of Commerce said, "It's a gathering space. It's easy. It brings a lot of smaller businesses into the community that can't afford the outrageous retail space prices that are here. It'll get students downtown or wherever you put them. It works." 
When asked where Date would locate a food cart pod, he said, "My ideal, if I was in charge, [I'd] go down by 4 Spirits and Block 15 in Southtown, I would take that field opposite, and I'd turn that into a massive food cart and parking lot." 
Samantha Alley of RE/MAX added that she was part of the sale of the space to Common Fields – our only current food cart pod in town. "He [Jacob Oliver] looked for a long time, and it was very difficult [because] there's just nothing available that's zoned properly for doing what he was trying to do."  
Date said, "Twenty years ago, food carts were a lot different than they are today. You'd pull on up and there'd be some dude selling fish out the back of his [car] – like a Halibut Bus driving around for everyone to see. Now, it's found money we're leaving on the table here."  
What is holding back the growth of the food cart industry in Corvallis?  
Time to Stand Up: As we reported recently, the allowed height of buildings in the downtown corridor has been increased from 75 feet to 105 feet. Some people around town have been stepping up against this change in spite of the fact that it would add much needed housing as well as a customer base for local businesses.  
If you are in favor of the changes created to begin the Commercial Mixed-Use development in downtown, then it may be time to open your mouth and stand up for it. The City Council meets at 6:00 p.m. on the first and third Mondays of each month – meaning there will be a meeting next week. If you feel as though you can't stand up and speak in a crowd, then letters to elected officials also work. The Mayor and City Council can be reached via U.S. Mail at PO Box 1083, Corvallis, OR 97339-1083. 
Many Hands Sells: The building that once housed Many Hands Trading – which recently closed – has been sold to local business owner Lee Eckroth. The Foundry, which sits on the second floor of this building, will maintain their offices, though the offices once occupied by DevNW are available for lease. 
Chamber Events: Coming this week from the Chamber of Commerce…   
Tuesday, Aug. 9, from 8:30-9:30 a.m., Greeters will be meeting at the Heartland Humane Society thrift store, located at 411 SW 3rd St. Come for the coffee, and stay for the wonderful conversations.  
On Wednesday, from 5:00-7:00 p.m., join Veronica Hennessey at The Biere Library for the Growth & Mindset Book Club for Business. You can find more info here.  
If gardens are more your thing, join Annette Mills and the Corvallis Sustainability Coalition on Wednesday from 5:00-8:00 p.m. for the 2022 Edible Garden Tour. This tour will feature South Corvallis gardens. More info here.  
And if Wednesdays are more of a stay-at-home kind of day for you, then you can join ABC House's virtual presentation of Bystanders Protecting Training from 5:30-6:30 p.m. The meeting details can be found here, and you can see more info about this important presentation here.  
Friday, Aug. 12, Be a Hero! Buy a cape! ABC House is raising funds to protect children at risk by selling the one article of clothing every hero needs – capes. Available all day, you can find out more about Cape Day here.  
From 3:00-6:00 p.m. on Friday, Grocery Outlet will be having a ribbon cutting event. Register to attend here.  
On Saturday, pull out your bicycle and join the Chamber and Mid-Valley Bicycle Club for a riding tour of the covered bridges. Depending on the route you choose, you can ride over up to five bridges. Starting at 7:00 a.m. on Aug. 14, you can learn how to register here.  
By Sally K Lehman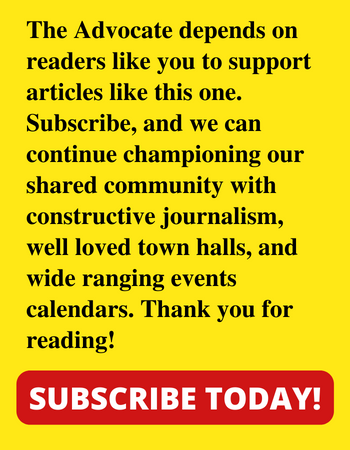 [ad_2]

Source link